Garadget works together with your existing garage door opener and controls it by simulating the taps on the wall button. When you send the command from the app, the relay inside of the controller momentarily closes the contacts. This method allows Garadget to be used anywhere where a simple button would work without interfering with any existing functions.
Most of the garage door openers support a simple wall button operation. Connect Garadget's wires to the same terminals as the existing wall console.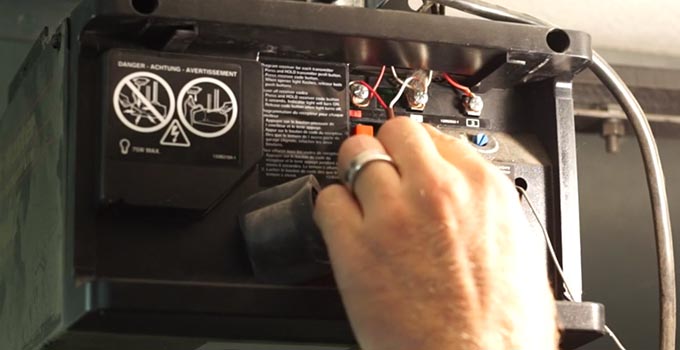 You can determine the connection for the wall console by tracing the wires visually or by checking the installation instruction for your specific model of the garage opener. If you need help, please check out the examples in our community board or contact us directly.
Important Note
There is a small number of openers which communicate with the wall console using a serial interface and do not support a simple push button operation. Among them are Security+ 2.0 enabled Chamberlain/Liftmaster (those with "yellow" learn button in the back) and some Genie SilentMax models. Installation of Garadget (or any other controller not specifically designed for these openers) requires a work-around involving a spare native remote or a dry contact adapter. For examples and help in this process, please check the community board or talk to us directly.
For your convenience we offer a pre-wired native remotes for Security+ 2.0 Chamberlain and Liftmaster openers.